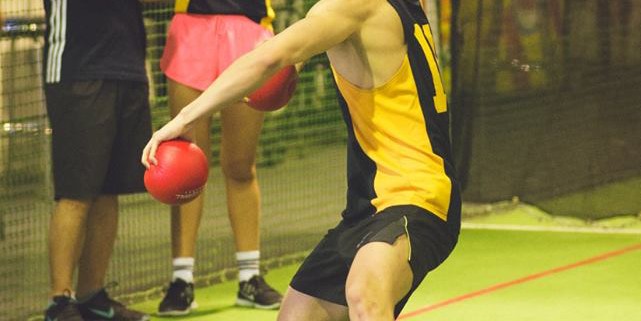 As of our Summer season in 2016 – we have made some adjustments to our rules. Please see below and contact holly@dodgeballsydney.com for any clarification.
Players may only run for the three balls on their right hand side. If the opponent does not collect the three balls on their right hand side, after passing the attack line, you are permitted to retrieve their balls as well..
Players must not intentionally jump into, lean against or push off the back or side netting. Particular attention to this must be paid when teams are on the mid-net side of play..
During play, the team with 4 or more balls must throw. If both teams have 3 balls each, the team with more players must throw. Throws must be valid attempts (no rolling or kicking).
Substitutes must be taken from divisions below your own. If you are in the lowest division, you may recruit substitutes from your same division.
After collecting a ball, you must pass the attack line with both feet before throwing. Only one foot behind the line will not be accepted – both feet must pass behind the attack line.
After each match, referees and officials will 'rate' the sportsmanship exhibited during the match considering honesty and fairness. 10 being the most fair and honest, 1 being extremely dishonest and unsportsmanlike.
Intentional scrunching, tearing or damaging of balls will be penalized with an immediate yellow card.
During the final minute before half time or full time no blocking will be permitted. The set must conclude promptly with only hits, catches and dodges. This only occurs when a set has less than one minute before halftime or full-time.